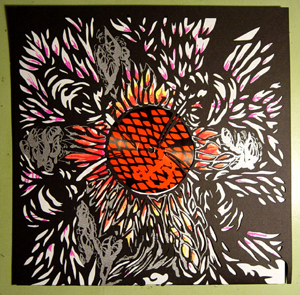 mudboy - volume V... "Hungry Ghosts! These songs are doors. "
Not Not Fun Records (LP)
Digitalis Industries (CD)
Dusted Magazine:
"One of the more beautiful audio objects of 2007."...
-----------
EXCLAIM MAGAZINE,
One of the "Best Albums of 07"
http://www.exclaim.ca/articles/multiarticlesub.aspx?csid2=864&fid1=29001&csid1=117
Mudboy Hungry Ghosts! These Songs are Doors (Not Not Fun)
A member of the fertile Providence, RI underground, Raphael Lyon spends most of his time honing his circuit-bent Mudboy persona, crafting a three-ring terror circus on home-built keyboard instruments. On Hungry Ghosts! These Songs are Doors, Lyon delivers a feverish nightmare in which every direction leads toward the realisation that true darkness does not lie in the foreign, but is hidden deep within each of us. Self-described as an exercise in "doom dub," Ghosts is a journey fraught with edgy apprehension, a phantasmagoria of alien tones. Decidedly Lynchian, this tension-filled song cycle pairs the weird with the wicked, and delivers a subtle dose of psychological harm. Bryon Hayes
-------------
Wire Magazine Review: Sam Davies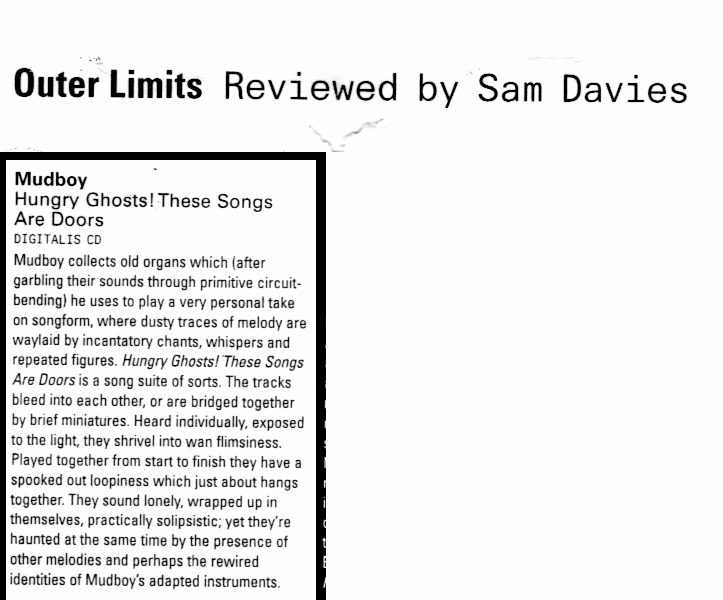 DROWNED IN SOUND- Kenn Taylor
....Beneath a beautiful piece of cover art, there is a record in which every single note of every song is deftly controlled and a myriad of sounds are utilised to create a defiantly abstract record.
A gentler Godspeed You! Black Emperor is a comparison that immediately springs to mind, as warped cuts of voice are thrown in and mixed with a collection of organs and obscure sounds. But this is more less epic and without that overwhelming pull on the emotions.
The eponymous title track builds darkly and uncannily, setting out what is to come, while track two, 'Swamp Things', is more subtle and meditative, with a swirling, gentle rhythm overlaid by ethereal waves of sound. 'The Last Song' resembles a knackered school organ doing a horror theme soundtrack while 'Shockwave!' takes a leftfield turn, sounding something like a cartoon hell complete with grinning demons coming right up into your face and burping in it.
But really, this is a record to be listened to as whole piece. Preferably lying down, with some time on your hands, to maybe stimulate some higher through processes and occasionally thrill you with its vision....
---------
Loop Magazine... online
This is the retro-futurist music of Mudboy that with a sep-up of a dismal organ, altered voices, analog pedals effect and other electronic devices, makes foretell a bizarre world, as for a film of David Lynch.
This album originally was released on LP on the Not Not Fun Pocahaunted label.
Sometimes recalls Throbbing Gristle, Add N To X and Excepter and lounge music.
His influences are diverse and Mudboy takes you on a dark journey, featuring layers of organ, guitar, synths and samples.
Esta es la música retro-futurista de Mudboy quien con un set-up de un órgano lúgubre, voces alteradas, efectos de pedales y dispositivos analógicos, hace presagiar un mundo bizarro, como para una película de David Lynch.
Este disco originalmente se editó en LP en el sello Not Not Fun de Pocahaunted.
A ratos se me aparecen Throbbing Gristle, Add N To X, Excepter y la música lounge.
Sus influencias son diversas y y Mudboy nos lleva a un viaje oscuro, presentando capas de guitarra, órgano, sintes y simples.
www.digitalisrecordings.com
Guillermo Escudero
Enero 2008
http://www.boomkat.com/item.cfm?id=71931
BOOKMAT.com This is the CD version of Mudboy's recent Not Not Fun LP, which in addition to carrying all the same music as the vinyl release includes a short video, 'Othern Lights'. Mudboy's sound is defined by a unique brand of organ-based instrumental psychedelia, or as the man himself would put it, he's a "Doctor Of Experimental Organomics". This isn't your average Sunday morning church recital (although there is a bit of that in here), these pieces feature some odd analogue effects processing, a little bit of guitar here and there and some pretty insane vocals, particularly on the demented circus ringmaster ditty 'Wwhirlpool, Wwindow Liight Nightt'. Larkin Grimm puts in some vocals on 'Swamp Things', a splendid analogue droner which goes a bit bolero as of six and a half minutes in, stretching out some modal keyboard soloing. One of the finest pieces on the disc, the organ-only baroque noodlings of 'The Last Song' give you an idea of what the inside of Vincent Price's head might sound like: all spooky melodrama and dusty sophistication. The packaging on this sucker is a bit special too, featuring ornate laser-burned card sleeves with a matching insert.

Notnotfun (liner notes)
For most of us, the doors of perception are triple-bolted shut and cast in bomb-proof iron. Only supernatural shapeshifters (or career criminals) can slip through and seize the wisdom within. But, sweetly, there is a hidden entrance: musick-as-magick. Providence, RI patch-cable conjuror Mudboy is one such secret key-crafter and his unlocking labors on this long-player stand at the summit of his already awesome discography. Alchemizing stylized soundtrack spells, organ wizardry, melodic mind-reading, and elegantly meditative harmonium hallucinations, Hungry Ghosts! These Songs Are Doors lights an urn's worth of ritual powders and powers, filling the speakers with a sign language of smoke runes and ghost tones. Lie on the floor and be floored by Mudboy's primordial plainsongs. Record comes housed in a dizzyingly intricate laser die-cut fold-over cover with an acutely aligned flame-silkscreened inner sleeve. Painstaking and perfect. Half on blood-red wax, half on black. Notnotfun http://notnotfun.com/presents/present.html



NONHORSE- http://www.paperthinwalls.com/singlefile/item?id=1144
Where are the ghosts these days? Our entire society is looking for a way out or a way in, and now there is a route drenched in the reverb of a false room or the echo of phantom canyon. Spirituals are just as likely prayed to from an oscillator as from an altar. Are there finally enough pedals and enough anxiety that a child is just as likely to pick up a Memory Man as a guitar? That means something dire. It means these are spooky times. The mindstate that interlocks with Mudboy's Hungry Ghosts LP might be approach-the-haunted-castle nervous, but it's a mystery-novel melody that drives us forward. I feel like there are too many genre trappings in most recorded music and not enough sonic world building. It goes beyond production of a recording to a founding of vocabulary on every level. The bent electronic organ and dirty pedal freak-out is enveloping and obfuscating enough to sneak in the story of a grand archway and cavern, an old mine in the distance hanging with intestinal vines, an incense swamp swirling with moats of colored light. It's also weirdly like reading Be Here Now in a steam car. The doors are strewn with commanding psychedelic archetypes that feast upon your flesh. The source is fucked. The modulation is fucked. The output is squeezed through the eye of a needle and finds moments of booty-moving intensity. A major figure in the new Moral American Drone underground. If you are Canadian, don't miss him open for Half Japanese. - PAPERTHINWALLS.COM
Creative Eclipse : Germany
8/10
Elegant meditative harmonium halizinations printed on CD.
"Hungry Ghosts! These Songs Are Doors" is a really strange and
exciting affair at the same time:
You are torn between darkness and light, day and night and, clear and
confused states.
Mudboy never rest too long at any place, never really long in one
state. And so"Hungry Ghosts! These Songs Are Doors" is a detailed, desoriented
egg dance with a lot of psychedelia and circling musical motions. The
album is as hypnotic and tempting as it is confusing, musically
somewhere between drone and freak-folk from the woods of Finnland. The
listener walks through a giant room full of mirrors and never really
knows where to turn and where to go, because everything mirrors,
changes and spins. It should be honored, that Mudboys analog sound-
games can absolutely go through quite and meditative phases. "Hungry
Ghosts! These Songs Are Doors" was released on LP by Not Not Fun
Records, but this CD-release also convinces with a detail loving
apearence: the CD is framed by a laser-cut or punched paper that is
slightly burned. On top of that the video "Othern Lights" is
included on the CD. (ORIGINAL IN GERMAN) translation: Joker Nies
http://z-gun.org/
ZGUN>
Mudboy Hungry Ghosts: These Songs are Doors LP (Not Not Fun)
When I get home from the office, I hang up the coat, slip off the shoes, fix myself a drink, sit my ass down on the couch and watch the news. Today, I did all of the above, but I put the news on mute while I spun Mudboy's newest full length, Hungry Ghost. A haunted wheeze spilled from the speakers as I watched images of young men in a far off desert ride around in machines. When the tube turned to images of toys cascading down a factory conveyer belt, the music matched those flashes as it did the war footage. As adaptable to Mudboy's sound was the film of Indian villagers battling monsoon flooding. Hungry Ghosts is an all purpose soundtrack! Rewind: Mudboy is one guy and one organ, a couple guys sitting in on guitar, and an occasional vocalist. The sound is brooding, sparse, distant, intimate, and rich. As organs tend to natural sound haunted, there is a slight Vincent Price movie house vibe going on, but it rests at the bottom of these tunes, an aftertaste of sorts. The guitars are hardly present. The vocals even less in the mix. While nothing on this slab nears cacophony, this isn't an ambient affair either. It is too engaging to be mellow, but not so much so to set the mind a runnin'. Ultimately, Hungry Ghost is a great listen. -SS http://z-gun.org/

http://worldofwumme.blogspot.com/2007/10/dirty-black-indian-summer-with-mudboy.html
Not not sure if Not Not Fun has a premier artist at this juncture, as every other one of their releases gives off a anonymous, tribal, organic vibe. Kinda like "We were Providence natives before Providence natives were cool," rally round the totem pole and chaos pad, type stuff. Mudboy is the real deal. Look, it says "Get Your Mind On," and from what I can gather this is a one-man show. Well this guy's made what might just be the finest noise record of the year in Hungry Ghosts! These Songs are Doors, not to mention the most meticulously crafted piece of wax I've seen in sometime (die-cut, hand-colored, oh my). Volta be damned. Anyways, Mudboy's gone and made the perfect soundtrack for the inevitable Indian Summer, a piece of music that will at once sooth you into frantic meditation and calm you into welcomed terror. Got that? There are prayer bells circulating, howls in the horizon, back-masked whispers of devil-blasted children, throbbing electronic scribbles at every darkened corner. In essence, Hungry Ghosts is the haunted house I'm not able to attend because of my wife's asthma, nestled somewhere in Southeastern Ohio, near a Shawnee burial ground uplifted by extra-terrestrials. On a more manageable level (and not in my over-active psyche) he falls neatly between the Finnish forest-freak-folk that's still under-appreciated and the loop-crazy sedation of Excepter, who have yet to craft their masterpiece.
http://worldofwumme.blogspot.com/2007/10/dirty-black-indian-summer-with-mudboy.html
Rikyu-KZSU stanford University
Mudboy dishes out a taste of emotional ambient with a beat . The album is built from solid blocks of white noise coming in mournful waves. Ephemeral use of wisps of human vocals gives the tracks some ghostly depth while the organ melodies add a Gypsy Carnival texture. Faster tracks: 5, 7, 8. No FCC's
1 (4:59) Whispering with woody percussion for 2 min. Loud buzzing, squeaking with chanting for 2 min. Otherwise a quiet track.
2 (9: 29) female humming on synthed harmonics. A soft melody comes in at 7:00 but never really formulates.
3 (2:01) Water sounds with an initial wave of white noise yield to a soft melody with sharp bell percussion.
4 (4:13) Alto organ in a meandering melody. 30 seconds of dead air at the end
5 (4:30) The Organ has a Balkan flavor. Human howling gets creepier and creepier. Great Halloween track!
6 (3:08) A slow pendulum melody
7 (4:27) Pulsing beeps start off the track and leads into a dissonant guitar melody in the last minute.
8 (2:41) A soft jazzy sound beat with human whistling and then male singing.