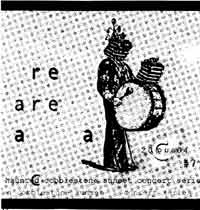 The concept here is that at (or around) the time of the setting sun, a concert will be held in a third floor room with the sound directed out toward the street where the 'audience' resides. The performance and the environment are then recorded as they interact with co-exist with one another. On paper it sounds promising and it also works well, at least in this installment of the series. For this performance, Eric Carlson (Area C) creates looped desolate drone-like guitar dreamscapes that initially play background to playing children and street conversations. As the intensity builds, the only punctuation to the third floor resonance is the sound of tires on cobblestone or the occasional siren. As much as you wish the amplified sounds to command the allegiance and respect of all in its presence (aside from the one dissenting car horn) it all seems to add to loneliness and longing of the piece. Carlson's guitar work is delightfully sparse and as un-busy as the street in which the performance is taking place within. The successful adaptation of the environment into a piece of art is quite an ambitious undertaking. This volume shows that it can be done quite well.- Chris Jacques

"...It is quite a cleaver concept actually, where the CDR's act as a formal document of the concept, as well as the 'concert' performance, whilst creating an experimental release that can in itself be considered as an actual album and not merely a live album from the project involved.
Area C rise to the task for the 7th performance in the series, resulting an almost 50 minute album that plays out as a single piece despite having 13 tracks. Merging what are in essence actual field recordings of the familiar sounds of neighbourhood going about its business, these are underscored with sparse fractured melodies and subtle washes of sound. Although the musical aspects are generated from a guitar, the instrument is not played in typical fashion. Rather its output it used in an understated and abstract way to create a mellow & melancholic droning ambience to reflect the fading light of dusk.
By way of a providing an overall compliment, the merging of muted guitar drones with sound artefact contributions (on the part of the neighbourhood), it evokes a vibe that draws parallels to the incidental bridging sections of music that post-rock band God Speed You Black Emperor! have produced in the past.
With an intriguing concept and methodology that has paid off in final results, you could do far worse then checking out this release.
From Aural Pressure (RJS) 5.2005